Праздники Исландии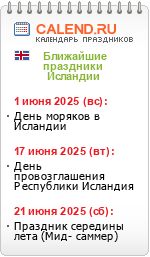 Iceland

Capital: Reykjavik
Area: 103,000 sq km
Population: 299,388 (July 2006 est.)
Climate: temperate; moderated by North Atlantic Current; mild, windy winters; damp, cool summers
Currency: Icelandic krona (ISK)

Iceland was settled in the 9th century by Norse vikings. The first settlement to last was that of Ingolfur Arnarson in Reykjavik. This is where most of the people of Iceland live. Reykjavik has a bustling nightlive, an exciting arts scene, and offers visitors the opportunity to explore the countryside in short trips to areas such as Thingvellir, Gullfoss and Geysir.

If you are interested in nature, Iceland is a great place to visit. In the summer, many companies offer guided bus trips that will take you around the country. You can also take the bus by yourself and go on hikes near places such as Thorsmoerk, Snaefellsjoekull, and more. Another alternative is to ride horseback across the highlands.

Additional Notes: The terrain in Iceland is so rugged due to centuries of volcanic activity, this is where the US tested their lunar landing module that eventually drove on the moon!

Also because of Norse woodcutting and volcanic activity, there are virtually no trees on the island! There is one small "forest" that is a national landmark.

Word has it that Leif Ericsson named Iceland and Greenland like he did to get explorers to go to Greenland (only to find millions of square miles of ice). Iceland, though Greenland's neighbor, benefits from the gulf and jet streams. The warmest it got in my year there was 60F and the coldest was 0F. However, the wind blows almost constantly and reaches 100 mph (sustained for a day or two)! I had a friend who broke her leg when an empty dumpster rolled over her like a box blowing in the wind!

Hotels are going to be rather pricey, like most things in Iceland. However, you can find some lovely youth hostels, and camping space is easily available in the summer time. Campgrounds have showers and toilets, and in addition there are many public pools where you can go to shower. If it all gets to be too much for you, most pools also have jacuzzis or "hot pots" where you can soak away the stress.

If you are flying to Iceland via Icelandair, you may want to use their reservation network to book a hotel room.
Iceland's capital is different from other European cities. It is the world's northernmost capital, and one of the newest, having established itself only in the late 19th century. Reykjavík offers all the pleasures of a modern European city and additionally an interesting old town, white-washed wooden buildings, and lines of brightly painted concrete houses. Almost all places of interest are within a walking distance of the old settlement.

The Old Town, the city's hub, is a rustic area of parks, lakes, markets and museums. Anybody interested in Norse and Icelandic culture should head for the National Museum, which houses objects of religious and folk relics, and tools dating from the period of Settlement. The most renowned is a church door, carved around 1200, which depicts a Norse battle scene, while residing in the basement are nautical and agricultural tools and models of early fishing boats and ingenious farm implements. Immediately behind the museum is the Árni Magnússon Institute, a must-see for Saga fans with a famous collection of works, including the Landnámabók and Njáls Saga.

Modern Reykjavík starts east of the Old Town, and features several attractions such as Hallgrímskirkja, an imposing church resembling a mountain of lava. It is the city's most memorable structure. Begun in the late 1940s and completed in 1974, the church is named after Iceland's best-known poet, Hallgrímur Pétursson. You can wander its stark, light-filled interior, then take a lift to the top of a 75m-high (246ft) tower which offers superb views of the city. On the lawn is a statue of Leif Eriksson, triumphantly identified as the 'Son of Iceland, Discoverer of Vinland' (believed to be Newfoundland or Labrador).

Budget accommodation, cheap eats and bargain shopping are found in the Old Town area of Reykjavik. For entertainment, there is cinema, cultural performances and light shows (sagas, Settlement and Viking extravaganzas)and also "Runtur", which is a Northern equivalent of pub crawling.
Akureyri is the largest town outside of the capital area in Iceland with a population of 15,000. It is located on Eyjafjordur Fjord. It's mostly an industrial town with shipping and dairy industries, and home of Akureyri University. Akureyri also is the site of the second oldest gymnasium (high school/college) in Iceland.

Sights include the folklore museum and the botanical gardens. A trip to nearby Lake Myvatn should also be on your list.

Referred to by Icelanders as the Capital of the North, Akureyri has a surprisingly active cultural life for such a small town. A number of art galleries operate year round, and a professional theater company operates during the winter. There is plenty of nightlife, with places such as the relatively large dance hall Sjallinn, where Icelandic bands play most weekends, Kaffi Akureyri which is a bar with a 25-35 year old crowd and a dance floor, and quiet coffee houses Kaffi Bar, Kaffi Karólína and Bláa Kannan.
Holmavik, a village on the western shores of the Steingrimsfiord bay, has been the commercial centre for its county for more than a century. Fishing plays a major role in the village's economy, but during the past decades, tourism has increased rapidly as the road to Isaf jordur has improved and an other less attended road to the northern parts of the Westfiords lies through Holmavik. The village's oldest house has been rebuilt and now houses the restaurant "Café Riis", in which old photos show the village's history. There is much on offer for tourists, such as trout and char fishing in nearby lakes, sea cruises, whale watching, golf, and tours to island Grimsey. The distance from Reykjavik is 274 km by the Whale Bay tunnel.

---
Права доступа к этому форуму:
Вы
не можете
отвечать на сообщения